Visit the museum
The centre and its environment

The Nippes Museum Centre ("Jugendladen Nippes & Nippes Museum") is situated in the suburb of Cologne – Nippes, a mixed area of housing, commerce and production near the centre of the town, where the percentage of immigants is above average.
From 1988 to 1997 the "Jugendladen Nippes" was promoted as an innovative project by the Federal Ministry of family, women, senior citizens and youth to construct the following: an intercultural community centre, a model of social work with youth, young migrants and girls, a new type of public intervention and participation of visitors in a youth museum.
Services and Community projects

25 employees, 20 of whom are freelance workers, give lessons for about 400 visitors of all ages, nationalities and social backgrounds, do casework supplemented by individual lessons covering all subjects of missing curricular knowledge, group work, counseling on school and vocational carriers, and organise community work projects like
Old and Young
Young migrants meet German senior citizens
Eritrea after the war
Life in Eritrea after the war compared to the living situation of refugees in Cologne
Educational measures and school in Turkey compared to Germany
School problems
School problems as perceived in extra-curricular education
/public
The centre, although freely accessible to everybody, especially attracts young, female immigrants who represent 2/3 of all participants.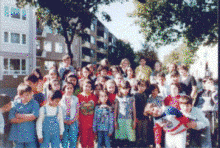 Linking social work, vocational and general education

Exhibitions on the current community projects help to correct negative images of migrants and unemployed workers, youth and young women. Furthermore, the concept of a "museum of living situations" linked to a system of integrated services and provisions for disadvantaged citizens provides a new environment for continuing education of professionals, and for local (as well as for regional or international) co-operation. The main focus of all the projects and exhibitions is put on new professional prespectives, especially the understanding of living situations and not merely strategic mobilization of publicity. Integration of traditional and modern social work mirrored by an interactive self-representation by participants in the museum leads to a refinement of scientific evaluation as well: theory and practive converge in a common process of collecting, interpreting and exhibiting by researchers, practitioners and participants.
Networking
The centre belongs to a network of 30 local agencies concerned with measures against youth-unemployment and co-operates particularly with 60 schools. The agency delegates a member to the Youth Welfare Committee. Staff members take part in working parties on social work for migrants, special support for the elderly in the suburb, youth centres, migrant centres and – on the regional and national level – in expert groups on immigration and youth work.
Documentation
Theory and practice are documented in a series of working papers, review articles and catalogues. A list of publications is available by email:
nippes.museum [at] web.de
Jugendhilfe und Schule e.V.
Jugendhilfe und Schule e.V. ís a small, non-governmental, self-reliant youth welfare agency striving for new approaches to extra-curricular education, social work with young people, and intercultural exchange on the local, national and international level. The association is a member of the "German Non-Denominational Welfare Association", one of the five large umbrella-organisations of social work and non-commercial services in Germany. The agency was founded in 1987 by an initiative consisting of social workers, teachers and social scientists to support methods preventing unemployment in the field of youth programs.